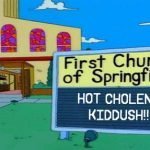 Parve Cholent  is a crime against humanity and I'm pretty sure that it's one of the few things that a bulk of the frum community can agree on. As strange as it is, there are people who consider themselves frum and traditional who partake in this travesty and I'm not so sure that anyone who really knows about minhag and mesorah could possibly justify making a cholent parve.
When I was living in a shul in San Francisco, one of my contractual things was to make kiddush most weeks, I was known for my meaty, fatty, and unhealthy cholent, one week a board member called me up to request a parve cholent and I almost lost my cool. How could someone who sits on the board of an Orthodox congregation even have the hava minah for parve cholent, it was truly a travesty, I even called up my own rav to ask him if it was permissible to daven in a shul that had members who knew from parve cholent. Not surprisingly, my rav had to ask his rav for a p'sak.
Parve cholent is definitely one of those negative attributes of the baal teshuva movement, it's a clear boosha to the frum world and the only people who could introduce such a crime against Hashem must be those who came from Godless homes. While I'm on the subject, I should mention that chicken in cholent is almost as big a crime as a parve cholent, for chicken provides none of the collagen or flavor of meat and therefore takes a parve cholent and makes it fleishig without the benefits of fleish. I've even heard that some poskim hold that chicken cholent is a bigger aveirah because some may think it's parve and go home and eat milchig and be over an issur d'rabanan.
In order to try and cover up the parve cholent's lack of flavor, those who commit this crime feel the need to add things to cholent which are clearly from their baal teshuva backgrounds, chickpeas, sweet potatoes, carrots, and any flavors they feel may help them in their spehardic envy. In general, cholent should only contain, meat, potatoes, onions, barley, and beans. There has been much debate in the less than frum community about other non-traditional things that may be fine, but break from our cholent mesorah – such as lentils, rice, quinoa, farro, and parsnips. These things may give the cholent taste, but breaking our time honored traditions is much more dangerous than any flavor enhancements.
Hot dogs in the cholent is not my thing, but in the past 20 years when we've lost most our pre-internet gedolim, many frum Jews have become more accepting of hot dogs in the cholent. I hear that in order to meaten up their cholents, many poverty striken kollel yungeleit have taken up the practice of adding hot dogs to their cholent.
Find our more about parve cholent sucking on 4torah.com