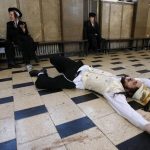 I have the Purim blues, it crept up on me like it always does, but this year more than ever I'm just not in the mood for Purim. I'm not sad or anything, in fact I'm quite happy with my lot, but I have no interest in getting drunk at the local shul seuda. Like some folks, I can blame it on the fact that Purim is a month early, or the fact my wife and I work most Sunday's (including this one) but I think I'd like to blame my decidedly non-Purim mood on the fact that this year there was a dearth of good Purim skits, spoofs, videos and emails going around.
Yes, I am part to blame, I haven't been writing much lately as I've switched jobs and I've been dealing with that. I also couldn't figure out (until tonight) how to get my old laptop that I use for writing (due to it's ergonomically designed key board) hooked up to my darned home network. Turns out that all those letters that are capitalized on the modem need to be capitalized in real life. It takes such small amounts of comfort to get me to write. I hate using my slow ass net book to write and using my wife's laptop isn't a good solution. For some reason, no matter how many new computers I try, it all comes back to my 2004 toshiba with a whopping 80gb hard drive to get me into it.
I think the Purim blues are natural for folks adjusting to married life, after all Purim is a holiday that is based on drunken madness in an effort to get some. Purim makes getting some a lot easier because the girls have an excuse to get rowdy and drunk. Purim in the singles world is about dance parties and rented clubs with free drink promotions on Facebook. The Purim of the married man is about sitting down at the local shul seuda and watching everyone's kids in their poor fitting costumes.
The only Purim worth speaking of is the Purim of my yeshiva years. So good was the Purim of my yeshiva, that high school kids couldn't stay and witness the action. If I had a top ten list of things I miss of the yeshiva world, Purim would probably be at the top of the list. It's a holiday for men of course, men who are normally formal and relatively sane become crazy and get very homoerotic. There's lots of drunken Torah, hugging, dancing and kissing. Kind of like a shalom zachor with music and costumes. It's the only time of year, besides for lag baomer when you see the Rabbis out of their hats and suits.
If the Bay Area only had a yeshiva for some good old fashioned, mostly male and mostly ada loyodai festivities. Alas, I need to be at work tomorrow at 10am and my wife at 9am. I could have had off, but since the wife is working (no such thing as time off during tax season)I decided I might as work until 5 and grab her for a seuda. I did just win $100 on a scratch off ticket and this has lifted my mood a bit.
Are you having the Purim Blues?