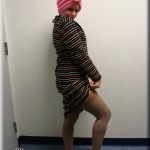 My friend Leah sent me this wonderful new article in GQ magazine by Shalom Auslander. It's about his obsession with hardcore porn and the guilt he feels about watching and getting turned on by other people's pain, embarrassment and whatever else they do in hardcore porn that is usually pretty extreme. The article is basically about him coming to grips with his guilt, by visiting the stars of his favorite hardcore porn movies and almost asking for mechilah.
I should confess that I have no interest in hardcore porn, but despite the fact that I find most of it horrendous and disgusting I can't really judge those who watch it. If there's anything good that's come out of some of the relationships I have had, it's that you never really know what goes on in people's heads, especially when it comes to sexual likes, dislikes and fantasies. Many of the girls (almost all frum) have watched porn and all had different tastes when it came to breaking negiah (which I never succumbed to)
It seems that Auslander feels guilty about liking this sort of thing, the sort of porn where people take dumps on each other and then proceed to beat the living daylights out of each other. Auslander is disturbed that he likes it and according to one of the pornstars he visits, this means he's normal. She tells him that perverts are the ones that aren't disturbed by such things and this is where we bring in the mussar.
I think many important lessons can be learned from this article. The biggest lesson is not to judge others, I know that the frummies out there will not be able to handle me suggesting that hardcore porn can provide any sort of Torah lesson, but I think the article is basically saying to judge yourself against yourself, not against others. You never know what others think is normal and who's doing what. All you can ever know is your own level and where you are holding. Auslander finds guilt and decides to ask mechilah only to find that those he seeks out tell him he's not a perv and just a regular normal dude.
One of the things I constantly here orthodox Jews saying about Gays is that "it's so disgusting" and it is, at least to me, but why should my disgust with gay sex prevent someone else from enjoying it. As long as two consenting adults are involved there's really nothing wrong with it (unless we go all Torah on their asses no pun intended) Those same men may find sex with a woman disgusting or offensive, how can one judge another's sexual tendency.
Really what I'm trying to say amidst all of this heretical blabbering is that I am a true chossid who can bring Torah and kedusha out of anything from wagon drivers in the Russian forests to those clubbing each other over the head in the hardcore porn industry.
Search for morality on 4torah.com