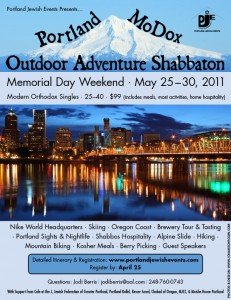 It is a general rule in the shidduch world that singles shabbatons suck, I have been to quite a few of them run by different organizations in my day and they are all pretty much the same regardless of what the advertisers say. It may be possible that since all of the singles shabbatons I attended sucked because they were in the New York area and once you attend a few of them you begin to realize that it's mostly the same group of people showing up every time.
I have written extensively here, here and here about the singles shabbatons I have attended all of which play themselves out the same way. You arrive and scope out the fresh meat, only to realize that there isn't anything for you (singles shabbatons are built to be shallow events at which people scope each other out on arrival, over the mechitzah and than at the Friday night and oneg) Then at the mandatory oneg you realize that the two semi decent looking guys/girls there are surrounded by a bunch of people trying to score. (in this case be asked for a phone number after shabbos)
I have never been to a shabbaton that had cool events, they charge you upwards of $300 to go to some resort hotel in "beautiful Connecticut border with NY area" where you can eat at the tea room and go swimming, if you're lucky they take you to laser tag, paint ball, pottery making or some other reserved for a first date activity that you stopped doing when you left high school. Generally and I say generally because I know there are always exceptions, but generally, singles shabbatons are boring and built on the platform of ice breakers and food, definitely not fun – because if they were fun – you would hear more people promoting them and telling you what fun they had, but whenever I would try to get anyone to come with me the response was always a violent "no f—cking way" or "I'd rather be shot" never a peaceful – "I don't feel like it".
So imagine my surprise when my brothers friend Jodi from Portland (not his wife) emailed me about a shabbaton for modern orthodox singles she putting on that actually sounded cool enough to send it around. I cannot tell you how many times I get emails from Gateways or some other organization who wants me to share a singles event that advertises something like "come hear Paysach Krohn tell you the secrets of finding your mate" or "meet with shadchanim from SYAS for free" I always figured that singles events should be cool events that happen to be attended by singles.
Well I actually wasn't too surprised at the event because it is coming out of Portland after all, which means it will be attended mostly by people from the west (no offense, but any shabbaton that says microbrewery tour is going to attract a different crowd than laser tag and Esther Jugnreis) Lets just say if I was single and living in New York, I would make the trip out to the shabbaton, (I am neither) because even though there may not be anyone for me per se, the people attending would probably be mad cool, Portland, Oregon is one of the coolest cities in the country and it would be interesting to see a small very out of town frum community.And besides the activities listed on the flier, include hiking, mountain biking, skiing, Oregon coast and Nike world headquarters are cool enough for me to attend – the price is also right $99 – even though most of you can't just hop on a short flight – it would be rather different than the annual Rye Town Hilton meat market.