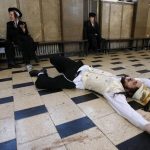 Drinking on Purim
By OfftheDwannaB
You might not know this, but the holiday of Purim is traditionally a good day for davening. This is because the salvation that came about only happened after the Jews got together and prayed.
Now, many people have come out against yeshiva bochurim drinking on Purim. These people are a modern reincarnation of Haman. They are trying to destroy the two most important Purim customs, drinking and prayer. As a former Yeshiva bochur, I know that being drunk on Purim is a purely spiritual experience. When else do you get such heartfelt prayers as these?
"Owowow. My head! Oh my God, I think I'm gonna die."
"Lord, I'm in your hands. Please guide my car on the straight path. Let me not swerve left nor right from it. And deliver me not into the hands of that evil cop."
"Hashem, make sure my Rebbe doesn't see me peeing on his car."
"If you let me just throw up now, I'll do whatever you want. Seriously. I won't jerk off for a week. Ow! Ok two weeks."
So moving! It's like witnessing a modern book of  Tehillim in the making. May the mouths of the evil ones be silenced so that this holy custom shall never cease from Israel.