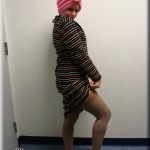 It's a magazine with shiny pages and vibrant picture.  And it's total frummy-porn goodness.  But there's no skin, and hardly any pictures of people.  Confused?  It's the Annual Shnorah Chinese Raffle Catalog.  Porn for frummies.  Beautiful images of highly desirable, but largely unattainable objects of desire that are stapled into a simple magazine meant to tease me out of some money in the false hope that maybe I'll get a piece of the real thing.  Ahh, how we love porn.
For a small donation you can buy raffle tickets and score yourself what every frummie truly wants — a fancy mahogany dining room set, electronics, a custom sheitel, a trip to Norway, jewelry, three shelves of brown books with gold imprinted Hebrew letters on the cover and fancy red marbling on the side — perhaps a Shas, Zohar, or some other large set of sefarim that look totally whack (but you'd never open).
This year's catalog also features a trip to visit great gedolim who will give you brochos (which you could put right alongside your air-guitar).
I've always wondered who actually puts money on the full set of Uncle Moishy tapes?
If you are looking for the issue, I'll leave it for you to look at — in the bathroom under the bath towels, with the other stash of mags.