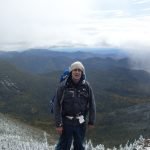 The following is not satire nor is it funny, but many folks miss the fact that I rarely write anything about my own life, my blog used to be a bit more biographical, but then I decided to make it less personal. For instance I stopped talking about the outdoors as much and some of you missed that, so here it is…I was able to get into the woods for a couple of days right after I got laid off and it rocked.
Everything was frozen solid, my red fleece had one soft spot, my pants were frozen and muddy to boot, and my boots had been saved my the brave act of grabbing them from outside my tent at 3 in the morning and placing them underneath my butt. At least the snow was a sight to behold, I peaked out the tent earlier in the morning and felt my heart skip a beat when I realized the ground was covered, it was the last day of September, I tried to remember if I had ever seen snow in September. I had, but Alaska and the Yukon weren't really counted, I don't think I have ever experienced a September snow in the northeastern United States.
It had started snowing a bit when we hiked up to Avalanche lake below Mt Colden, I was kind of shocked, considering the fact it had been raining not too long before we burst through the golden birch trees onto the old slide that avalanche lake is named for. Every time I hiked the through Avalanche pass I got the same feeling, I was awed at the extremeness of the location despite that it was in New York State. How could this be the same state that New York City is in, I had always wondered as I looked at the thousand foot cliffs dropping into the lake before me, now, with peak fall foliage and a hard driving wet snow it was even nicer.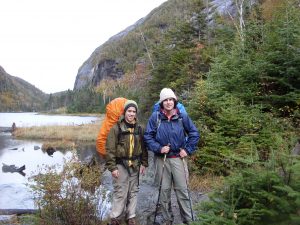 I dreaded getting out of bed, whatever wasn't frozen was surely wet, besides for on e long sleeved t-shirt, a pair of underwear and a fleece vest. Luckily my friend had over packed and was able to lend me a jacket and waterproof pants. They were small, but I was wet and it was 25 degrees out, it would have to work. I fit into his ski jacket and we began to warm our boots with the camp stove. We reheated last nights rice and beans that my girlfriend had made us, and loaded up our packs.
Now we had to decide whether to hike out with a possible side track up the summit of Colden, which would take us above tree-line into the alpine zone and shorten our return trip by 2 miles. Or would we do the full loop and hike Marcy, the tallest point in New York State and risk not having a view. It was overcast and I was cold and wet, the 2 inches of snow didn't help much, but in the of my mind I knew that hiking Marcy in the snow would be cool, even if we didn't get a view. I decided on Marcy.
The trail we took in to get to our leanto, which we had set up out tent in for extra warmth, was 3300 feet above sea level. Marcy was 5344 and we had to complete this in less than 3 miles. Yesterday we had hiked about 9 miles, and today we would do 10, with full packs in a biting wind with several inches of snow on the ground. I felt like we were on a mountaineering expedition even though, no technical climbing would be done and I have hiked Mt Marcy in an easy day hike.
The trees sagged underneath the snow, and every few feet my neck got a good dump of snow. In no time I was sweating buckets, but I knew that stopping would make me freeze, I continued up and up, marveling at the silence of the snow covered evergreen forest. The snow thickened as we continued up, but the sky seemed to brighten and at some point some blue could be seen behind the low clouds.
By the time we hit Lake Tear of the Clouds, the source of the Hudson River at over 4,000 feet, the sun was shining brightly through the trees and we knew we would have a view. From the lake it was another quarter mile to the junction with the Marcy and Mt Skylight trails. Mt Skylight is just shy of 5,000 feet tall and provides great views of Marcy and the surrounding peaks. We took a left and continued up the Marcy trail.
Mt Marcy isn't an impressive mountain by any means, only several hundred feet of it are above the tree line and its not a jagged peak by most peoples standards. But, I love the Adirondacks, and the views from Marcy are 360 degrees of mountains and valleys, that make you think you were way farther away from the big northeastern metropolitan areas than you were.
On this day the views were even better than normal because of the snow and foliage factor. I figured the snow line to be at about 3,000 feet, below the line was beautiful colorful leaves, thousands of reds, yellows and oranges mixing in with the green evergreens filling the valleys and leading up to the virgin white snow covered trees that lead to treeless rocky crags. It was something else to see.
We gradually made our way up over the tree line and onto this steep rocky ice covered surface, cairns guided our way to the top. Grass frozen solid and icicles were another site to behold and I just couldn't stop looking at the foliage covered valley directly to my south –east. I wondered if that was the famed Panther Gorge.
For the first time in my life I did not take a break at the summit of a mountain. Normally I lazy around, grabbing pictures and snacking on some energy bars but not today. The wind was biting and I could feel my dampness slowly getting quite cold and so I started down, footing was sketchy and several scary falls later I back to solid ground. I met up with some people just after the scraggly trees started converging on the trail and asked them to get an apple that was stuck in the back of my pack. My girlfriends roommate had given it to me, it was an organic Honey Crisp apple from the Park Slope Coop and the only reason I am telling you all of these details is because it was the best apple I have ever had. I am a huge honey crisp and gala fan, but never has an apple been so full of flesh and juice, it was also huge so I gave my buddy half of it.
My buddy Yosef who was with me is a bit more hard core than I am, he stopped at the top just because he figured he would warm up on the way down. Not one to complain he was always more extreme of a hiker, skier, and mountain biker. We had met in yeshiva and after a month long road trip to British Columbia, Idaho and Montana our friendship had been solidified. I also use him as one of my proves that marriage doesn't have to kill an outdoors nut. Yosef is a kollel guy with a kid, just this summer his wife carried the kid while he carried all the gear on a multi day backpack in North Cascade National Park in Washington State and now he was able to take leave of his family for a short two day backpack in his home state.
We continued our hike and by the end I was kind of pooped, I had energy, but it was time to hop in the car and leave. Of course we both were kind of bitten by the winter hiking bug, imagining what it would be like to hike, ski or snowshoe and camp out in subzero weather, even though it was a balmy 20 degrees during our hike. First I need to test out whether I can sleep outside in subzero weather, I mean how do you pee in the middle of the night?