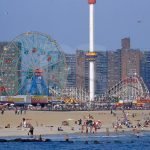 My buddy and I went to the beach yesterday after work, we figured we would try one of those small beaches on the side of Belt Parkway in Brooklyn, but they were all garbage filled and had no swimming signs, so we figured we would go to the sandy Russian and Latin filled expanse known as Brighton Beach.
The beach was empty, which is how I like it and the water was cold and refreshing, and the people watching was superb – not because everyone was so hot, or half naked but for precisely the opposite reason.
You see my friend and I probably had some of the best bodies on the beach and that is not a good thing, because my body aint that great. Fat Russians, Black folk and Hispanic men and women with their mounds of flab and interesting accents hobbled around the beach affraid of the water like beached whales waiting for the tide.
You may even argue for the more relgious folk that don't go mixed swimming, that a weekday night swim at Brighton Beach would be kosher because everyone is so fat and ugly there would be no temptation.
I am not one to feel uncomfortable with my little pot belly, I am all about walking around without a shirt, driving without a shirt and feeling free – but many people are not like me, they feel wierd at the gym and the beach and therefore they swim in t-shirts and don't go at all. The beaches I have been to in Spain, Israel, Greece and Mexico have all been filled with beautiful people – and I myself have felt a little self conscious, though not enough to not go – at those places.
Brighton Beach Memories:
Just wanted to give you this sub-post within a post, my father used to take us to Brighton Beach when we were kids and I always loved those trips. The hot-sticky heat, our backs sticking to the seat and walking past the hand ball courts with all of these old men in headbands, short shorts with white socks pulled all the way up and little kids with their fingers sticking through the chain link fence looking on. (the old men are all gone and its now young Mexicans in their place)\
After the beach, we would always get kinishes with mustard from the hot dog stand by the hand ball courts and then we would always go to this kosher Italian place on Coney Island avenue that doesn't exist anymore.